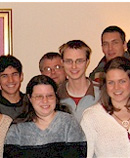 Students at a Visitors Weekend at Maharishi University of Management.

Katie Cleary, Communications and Media student.
Creating a vision for the millennial generation
by Maharishi University of Management, Fairfield, IA, USA, Achievements
31 December 2009
Katie Cleary is a Communications and Media major from Greenville, South Carolina. She studied business at Lander University in Greenwood, South Carolina, before transferring to Maharishi University of Management (MUM) in search of holistic education.
Inspired by the supportive student community at MUM, Katie has been actively contributing to it by using her organizing skills. Last year, she served on the Global Student Council and became the editor in chief of Conscious Times, MUM's student newspaper. Katie also participated in mediation tournaments, volunteered at Visitors Weekends, and started a peer mentor program to help new students integrate into their new environment at MUM.
Katie credits her time-management skills, the practice of the Transcendental Meditation technique, and the support of her peers for the multitude of her accomplishments. "Being here at MUM I have been able to do so much because I'm surrounded by such wonderful people who are so supportive of what I'm doing and what we are doing," she says.
In addition, Katie helped jump-start DLF.TV's student affiliate program by helping them define their vision and mission.
"Katie is very good at multitasking, staying on point, creating a really structured goal set, and inspiring others to create goals as well," says Robert Gongwer, Student Satisfaction Specialist of the Sustainable Living Program, who worked with Katie and other students to bring together their initiatives, help each other accomplish their goals, and create a supportive community on campus.
"I'm really passionate about my generation," Katie says. "I would like to bring the millennial generation together and empower them to make a difference." Using what she has learned about sustainability and communities at MUM, Katie is developing her own blog to share her vision and tools for positive social and environmental change.
© Copyright 2009, Maharishi University of Management