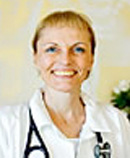 Dr. Charlotte Bech
Maharishi University of Management alumna publishes bestselling book
by Maharishi University of Management, Iowa, USA, Achievements
10 June 2009
Charlotte Bech, Maharishi University of Management graduate, was interviewed on national radio six times and for a year she will be featured in a daily television program giving advice on Maharishi Vedic Approach to Health. Her book, Healthy and Sound—All Year Round, is being translated into three other languages.

Healthy and Sound is written in a calendar format, giving one simple health tip for every day of the year. The practical advice presented in the book covers diet, exercise, imbalances, detoxification, and stress management.

"365 shots of healthy inspiration — an advice for each day of the year. Does it sound good? Let yourself be inspired by the book Healthy and Sound All Year Round, written by Charlotte Bech, MD, trained in Maharishi Vedic Medicine and Ayurveda," wrote Denmark's largest women's magazine.

"Every morning you can read the health tip of the day and try to implement it," said Dr. Bech. "In this manner, day by day, you can gradually establish healthy routines and habits."

Dr. Bech holds a medical degree from the University of Copenhagen, has worked in various areas of conventional modern medicine, and has taught at the University of Copenhagen Medical School. Dr. Bech received her M.S. in Physiology and M.A. in the Science of Creative Intelligence from Maharishi University of Management.
Dr. Bech is the vice president of the European Ayurvedic Medical Association and currently runs her own prevention-oriented clinic. She also teaches the Transcendental Meditation technique and regularly speaks about health on the Maharishi Channel on Channel 5 of the Global Mother Divine Organization.

© Copyright 2009, Maharishi University of Management