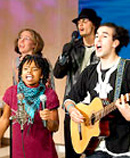 MUM students greet visitors with music.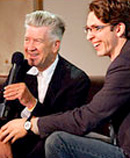 David Lynch (left) answers questions.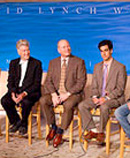 A DLF.TV panel presents the global activities of the David Lynch Foundation.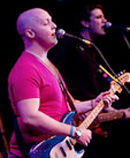 James McCartney makes his U.S. debut in Fairfield.
David Lynch Weekend attracts record number of prospective students
by Maharishi University of Management, Fairfield, IA, USA, Achievements
30 November 2009
The event combined a Visitors Weekend for prospective Maharishi University of Management (MUM) students and the Fourth Annual David Lynch weekend hosted by the David Lynch Foundation Television (DLF.TV) for its student affiliates and volunteers.
"With over 90 prospective students and parents in attendance, this was one of our largest Visitors Weekends," said Brad Mylett, Dean of Admissions. "Visitors Weekends are wonderful opportunities for students to further explore their options for study at Maharishi University of Management. Historically, over 50 percent of those attending end up enrolling within a year."
The weekend included musical entertainment by MUM students, introduction to the Transcendental Meditation program by Dr. Robert Roth, question and answer sessions with filmmaker Dr. David Lynch, and a taste of the inspiring activities of the David Lynch Foundation around the world as documented by DLF.TV. In addition, Dr. John Hagelin wowed the audience with a presentation titled "The Cosmos Within: Exploring the Limits of Human Potential."
The highlight of the event was a concert featuring music legend Donovan, blues singer/songwriter Laura Dawn, and James McCartney, son of the famed Sir Paul McCartney, making his U.S. debut.
Throughout the weekend, guests had the opportunity to mingle with students and faculty, tour campus, and visit a class of their choice.
Antonio Ventura from Brazil was impressed by MUM's unique approach to life. "I met very nice people here who answered all my questions. I want to apply for the M.B.A. in Sustainable Business program," he said.
Prashanth Ramasamy, a graduate student at California State University, Long Beach, who already practices the Transcendental Meditation-Sidhi program, wanted to meet people who share the desire to improve their communities. "I can see the glow on everyone's faces and the environment is so blissful," he said. "It's such a fascinating experience to walk around campus."
Watch the highlights of the weekend at the DLF.TV webcast replay.

© Copyright 2009, Maharishi University of Management