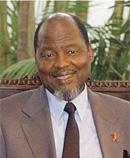 In 2001, President Chissano said, 'First I started the practice of Transcendental Meditation myself, then introduced the practice to my close family, my cabinet of ministers, my government officers and my military. The result has been political peace and balance in nature in my country.'
Former President of Mozambique visits Maharishi University of Management
by Maharishi University of Management, Fairfield, IA, USA, The Review
9 November 2009
Joaquim Alberto Chissano, who was president of Mozambique from 1986-2005 and who introduced the Transcendental Meditation technique and Yogic Flying to the military and brought an end to the long-standing civil war, visited campus last month and spoke at a celebration honoring him.
He is highly regarded in the international community as a statesman and continues to work for peace in Africa. In 2007 he was named the first recipient of the Ibrahim Prize, which is awarded to a democratically elected former African executive head of state or government who has served his term in office within the limits set by the country's constitution. The award includes a $5 million prize.
President Chissano's visit was at the invitation of student Celio Mondjane and coincided with a business trip in Iowa. According to University Executive Vice-President Craig Pearson, President Chissano also wanted to reconnect with the community and to work on plans to build a peace-creating group of Yogic Flyers in Mozambique.
While he was in office, President Chissano sponsored a group of students from Mozambique to attend Maharishi University of Management.
When President Chissano received the Ibrahim Prize, a news story noted how unusual it was for an African president to leave office after two terms and suggested his practice of the Transcendental Meditation technique played a role.

© Copyright 2009, Maharishi University of Management