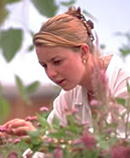 Sustainable Agriculture, emphasizing organic agriculture and permaculture design practices on organic farms, is one of the key areas covered in the Sustainable Living degree program at MUM.
Nationally known experts teaching Sustainable Living at Maharishi University of Management
by Maharishi University of Management, Fairfield, IA, USA, The Review
13 November 2009
The Sustainable Living Program is bringing in a series of nationally prominent experts this year to teach courses such as natural building, biomimicry, living soil, eco-cities, food safety, permaculture, social justice, the economics of sustainability, community organizing, and more.
"These are people who are highly competent in their field," said David Fisher, department head. "They enjoy being here and are interested in returning."
The teachers include Robert Laporte, founder of the EcoNest Company and the Natural House Building Center and a leading expert in earth, straw, and timber frame structures, Scott Pittman, founder of the Permaculture Institute who has taught permaculture in over 18 countries on four continents, John Ikerd, whose books include Sustainable Capitalism and Small Farms Are Real Farms, and Dianne Dillon-Ridgley, a director at Interface, Inc., a global manufacturer of commercial carpet, modular floor coverings, and commercial fabrications, and a leader in sustainable design.
The series began in September with 20 students taking a course in natural building taught by Mr. Laporte, Paula Baker-Laporte, and Steve Vessey. The students completed the structure of a clay/straw building with a tile roof north of campus. After the building spends about six months drying and curing, they will finish by installing windows and doors.
"Our natural building class was hands-on and inspiring," says Josh Adams. "I hope to someday soon build a dream home with natural materials and energy-efficient technologies."
In block 2 the subject was permaculture, and the course was popular, with 67 students enrolled. The course was divided into three sections, and the teachers included Doug Crouch, a permaculture designer at Forest Springs Farm in California, Marisha Auerbach, a permaculture designer and teacher who has taught permaculture in the Pacific Northwest and in other parts of the world, full-time faculty member Lonnie Gamble, and Scott Pittman of the Permaculture Institute.
Permaculture is the design of productive habitats for people that have the stability, diversity, and resilience of natural ecosystems. It attempts to apply nature's design experience to guide the design and integration of housing, transportation, energy, food production, economic systems, and personal life.
Next block the teacher will be John Ikerd, professor emeritus at the University of Missouri and an expert in the economics of sustainability.
In an upcoming block students will learn about social justice from Dianne Dillon-Ridgley, an environmentalist and human rights activist who speaks internationally on issues such as sustainability, corporate social responsibility, and justice.
Student Mitra Muehlman said that even though these teachers are teaching their first courses at Maharishi University of Management, the classes are well organized and outstanding on many levels.
© Copyright 2009, Maharishi University of Management