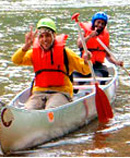 Students return from a 10-mile canoe trip.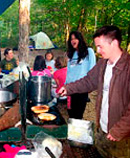 MUM alumni serve as camp cooks.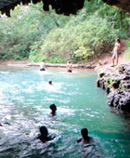 Students take a swim in the 58 degree water of a cave spring.
First year students at Maharishi University of Management begin school year with Base Camp
by Maharishi University of Management, Fairfield, IA, USA, Achievements
16 November 2009
In early September, 93 first-year students enjoyed a four-day camping trip, called Base Camp, to the Current River in Missouri. Base Camp is integrated into the very first academic class, The Science and Technology of Consciousness.

Base Camp was introduced in 1999 to build strong relationships among new students and members of the faculty and administration.

"We wanted to give first-year students an opportunity to really get together and experience each other in a very novel environment," said Ken Daley, head of the Department of Exercise and Sport Science, who developed the Base Camp program and has led the expeditions ever since.

Being outdoors in a national park is a good way to bring people together. The Current River flows through the Ozark Mountains and is designated a National Scenic Riverway. During their outings, students went canoeing on the spring-fed river, visited a natural water-park, went bushwhacking in the woods, and explored a cave spring.

"Through Base Camp I made new friends and had excellent bonding experiences," said first-year student Sudevi Mossé. "The vigorous physical exercise and beautiful landscapes were a wonderful environment to enjoy the presence of the fun group. Sitting around the fire and singing were the most heartfelt and blissful times. I feel I've built long-lasting connections with special people."

Each year Maharishi University of Management faculty and staff accompany students on their adventure. This year's faculty and staff included Craig Pearson, Dan Burks, Scott and Vicki Herriott, Isabelle Matzkin, Brad and Nora Mylett, Susan and Dan Tracy, and Tom and Kathy Brooks..
© Copyright 2009 Maharishi University of Management