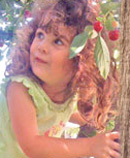 The outdoor learning environment helps students appreciate the wonders of Nature.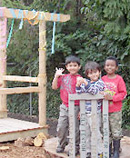 The picket fence is engraved with names of donors.

Water will circulate through the Sparkling Springs water feature by children hand pumping a pump.
Maharishi Preschool builds Nature Explore Classroom
by Maharishi University of Management, Fairfield, IA, USA, Achievements
28 October 2009
Maharishi School of the Age of Enlightenment recently received a $32,600 grant from the AIM Empowerment Board, a division of the Iowa Department of Management. The grant was given to Maharishi Preschool to build Southeast Iowa's first certified Nature Explore Classroom. In partnership with the Arbor Day Foundation, the model classroom is designed to connect children to nature.
In addition to the grant, Maharishi School has raised $12,000 from donations and is now only $10,000 short of its budget.
"By building the Nature Explore classroom, we are making a lasting contribution to the future of Maharishi School of the Age of Enlightenment," said Laura Bordow, Lower School Director. "As our children experience inner growth through Consciousness-Based education, this outdoor learning environment will help our students appreciate and care for our planet Earth."
When children returned to preschool in late August, they found a child-sized rain catchment system flowing into a rain garden, a tree house theater, and flower beds. Additional features to be added include a cob playhouse and a swing set.
Maharishi Preschool teachers attended training by the Arbor Day Foundation on how to connect children with the wonders of nature. The teachers are committed to offering a nature-based curriculum to the children of Maharishi School. The School also proposes to share knowledge of outdoor education with other preschools, childcare centers, and parents throughout Iowa.
On October 10-11, Maharishi School is hosting a Community Fest inviting children and parents to help plant bulbs, flowers, and shrubs, construct wood benches, stools, and chairs, and create mosaic stepping stones.
For more information, or to contribute to the completion of the playground, please contact Maharishi Lower School Director, Laura Bordow at 641-472-9400, ext. 5070 or email lbordow@msae.edu.

© Copyright 2009, Maharishi University of Management