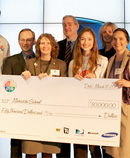 Representatives from the Maharishi School attended the event in New York to receive the award from Samsung, Microsoft and Direct TV.
Maharishi School wins $50,000 in technology
by Maharishi School of the Age of Enlightenment website
19 April 2010
Representatives from Maharishi School just returned from New York City where they accepted first prize and $50,000 of technology in Samsung's Four Seasons of Hope essay contest. This prize includes hardware from Samsung, software from Microsoft, plus cash from Direct TV. Four people from Maharishi School, essay author Lucinda Hall, school representative Springli Johnson, parent Nick Johnson, and student Essa Johnson went to New York to be celebrated. New York Giants football star, Eli Manning, was there to award the three top schools in the contest.
Samsung's website says their goals are to fill the technology gap in education. Maharishi School Head Dr. Richard Beall said, "We're proud of Mrs. Hall's accomplishment and grateful to Samsung for advancing our school's technology program with this award. These items will immediately upgrade our ability to meet our students' needs and interests in technology and media arts."
"Receiving this award is like being paid $500 a word," said Lucinda. She enjoyed meeting the other essay authors, who were all older females, saying, "Middle-aged women rock." The big winner of $210,000 of technology was Capistrano Valley High School of Mission Viejo, California, which has 3500 students. "I guess they need it; in a way Maharishi School's smaller student population will have a better student-technology ratio with our prize."
The contest started with over 7,000 entries on the topic of technology in education, and how it affected teaching and learning. 21 essays were then put up at the Samsung site for online voting. This was narrowed down to the top three essays, whose school representatives were flown to New York for their final award ceremony. All the winners are listed at: fourseasonsofhope.com/education.
In the last ten years, Samsung has given away 25 million dollars in charity. Maharishi School will be getting 10 laptops, 12 monitors, 2 HDTVs, 2 laser color printers, 5 camcorders, 7 digital cameras, 2 blu ray players, estimated value $24,000. Microsoft is giving $24,000 in software, Direct TV awards $2000 plus their DIRECTV GOES TO SCHOOL® program.
Ms. Hall's winning 100-word essay appears below:
O-o-h-h-m-m-m. The sound of meditating at Maharishi School? No. The whirring of the hard drives from students at work.
Jonina is using Google Earth on a biography of Thornton Wilder. Jay is making a book poster in Quark. Pasha is using blending options for digital art in Photoshop, while Dodie is reading Track Changes in Word to perfect her writing. Eric is creating graphs in Excel, but Angela is presenting a PowerPoint on Edgar Allen Poe.
Why so quiet? Switched to solid state drives? No they're meditating. The pure state of intelligence--getting ready to go back to their computers!
© Copyright 2010, Maharishi School of the Age of Enlightenment