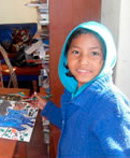 Student enoys an art class taught by Marissa.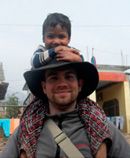 Marcus educated children about hygiene, diet, and other health concerns.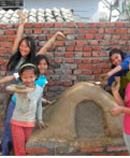 Marissa works on the cob oven with the children.
Promoting health and education at children's home in Nepal
by Maharishi University of Management, Iowa, USA, Achievements
26 July 2010
Maharishi University of Management (MUM) student Marcus Chatfield and MUM graduate Marissa Markowitz recently spent two months at Kopila Valley Children's Home in Surkhet, Nepal promoting health and education.
Marcus, who plans to become an M.D., wrote a manual integrating Western and Chinese medicine with Maharishi Ayurveda and traditional Nepali healing. The manual covers diet, exercise, diagnosis, and profiles of native medicinal plants. He also educated children about hygiene and healthy diet. In addition, Marcus and Marissa installed a solar water heater and built a cob oven. The water heater can provide the 28 children in the orphanage with one hot shower a week, which most of them had not experienced before. Both the water heater and the manual are part of Marcus' senior project.
"Health promotion enables people to take control of their own health with preventative measures," said Marcus. "As a health promoter, you try to provide things like clean drinking water and hot water. You work on sustainability, not just personal health." Marcus would like to work with Doctors Without Borders or the Peace Corps in developing nations.
Marissa taught English, dance, and art to the children of the home in addition to helping Marcus. Marissa received her BS in Sustainable Living in 2009, and was the principle coordinator for the Eco-Fair for three years. She received an Outstanding Student Award and Alumni Outstanding Service Award in 2009.
Marissa has recently been accepted to a graduate degree program in Global Management in Oman. "I would like to promote sustainable development internationally, like this project we did in Nepal," she said, "incorporating sustainable practices in education and in businesses in the US and abroad."

© Copyright 2010 Maharishi University of Management