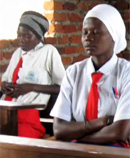 The education offered by Maharishi Secondary School for Girls provides the basis for its students to enjoy a happy and successful life.
Girls' education in Uganda takes a positive turn
by Global Good News staff writer
30 October 2011
'This school is very different from any other school,' Grant Lusimbo, Director of Maharishi Secondary School for Girls in Uganda proudly states. He then explains that it is 'because we offer what you call "Integrated Education." We teach the Maharishi Transcendental Meditation Technique which allows the active mind to systematically and gradually settle down, leave thoughts, while remaining inside awake.'
The education offered by his school is, indeed, unique. While education for African girls has not been a priority—with girls leaving school to help in the home, because they are needed for labour, or due to arranged marriage at the average age of 14 1/2—advocates for girls' education emphasize its importance for the female's role in the family. Because girls are the central resource for the family's health and overall wellbeing, their education is very significant, providing them with the knowledge to make better choices for their families and therefore laying a solid foundation for the next generation.
Education for a happy and successful life
Through the Transcendental Meditation Technique, Maharishi Secondary School for Girls nurtures its students from the deepest level. By providing regular experience of Transcendental Consciousness, the only experience which enlivens total brain physiology, the girls naturally grow towards higher states of consciousness, in which the brain functions in a coherent manner at all times. As the orderly functioning of the brain supports memory, creativity, moral reasoning, problem-solving, and decision-making—really everything good about the brain—the education offered by Maharishi Secondary School for Girls provides the basis for its students to enjoy a happy and successful life.
School Director Lusimbo shares the unhappy fact that corporeal punishment is prevalent in African schools—they are like prisons. This results in poor attendance, poor behaviour and academic performance, and student drop-outs.
By contrast, with the introduction of the Transcendental Meditation Programme, the behaviour quickly becomes good. Kalyebbi Felistus, who has taught in girls' schools, boys' schools, and co-ed schools and is now Headmistress of Maharishi Secondary School for Girls in Uganda, comments, 'These girls are disciplined and they're eager to learn.'
Nadunga Rebecca, a geography teacher at the school, says that in a school where she used to teach, the students gave her a hard time and she was thinking of changing occupations. 'But now, teaching,' she says, 'I will never leave it.'
A senior at the school reflects on the mental clarity gained from her practice of the Transcendental Meditation Technique. 'After morning lessons,' Reginah says, 'I come out when my mind's tired. But after meditating, my mind's fresh and I can pick up whatever they are teaching and understand hard subjects like biology, chemistry, and physics.'
Director Lusimbo also comments on the school's academics: 'Continuously, academic performance is better than even the "good" schools, which are taking only the "cream". And this is really a great joy to us. We see that, OK now, this school is like a hospital which gets a patient who is supposed to be written off, saying, "now we can't treat you." Then we say, OK, bring him to us and we will resurrect him. Now we get a student [about] whom the other schools are saying, "We cannot touch this one." We say, "OK, we have a method."'
Beyond academics
In addition to providing academic growth, the Consciousness-Based Education offered at Maharishi Secondary School for Girls nourishes the students' fine feelings. A moving example is given in the words of a student who is HIV positive and has suffered from the stress and isolation of her situation. She reported, 'Since I started meditation, I have seen my health improving. I used to have body aches and terrible headaches, but these days I am happy to be healthy. I don't experience aches. I understand my self—who I am…and my friends have started supporting me because they are also meditators.'
Nteen Langa, a teacher at a Consciousness-Based school in South Africa, also expresses this quality of mutual support among students when they are practising Maharishi's Transcendental Meditation Technique. Langa speaks of a speech contest: 'In this competition, four schools were involved. Before every practice session, I meditated with the children for 10 minutes. [The] children understood the topic well and were well prepared. During the competition they were relaxed. They expressed themselves before a large audience without being nervous.
'Six pupils were prepared for this competition but only three were to represent us. They were all eager to be the participants. After the final selection, the members who were not elected were calm, not complaining and wished the elected ones good luck. This was the first time I have ever seen them compromising. The spirit was high and we easily won the competition.'
She concludes, 'The children were amazing.'
© Copyright 2011 Global Good News®