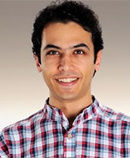 Morad Malekghassemi, PhD student from Tehran, Iran, has worked on humanitarian projects around the world and wants to bring the Transcendental Meditation technique to his colleagues at the United Nations.
From the UN to MUM
by Maharishi University of Management, Fairfield, Iowa, USA, Achievements
August 2013
Morad Malekghassemi, PhD student from Tehran, Iran, plans to promote the benefits of cultural diversity as the new cultural committee president of the Global Student Council at Maharishi University of Management.
Morad always wanted to do humanitarian work, so he joined the United Nations High Commissioner for Refugees. His first assignment was in Turkey working with refugees from more than 23 countries. While pursuing his master's degree in England, he worked for Oxfam, an international organization dedicated to overcoming poverty.
Morad studied business administration and then received a Master of Science degree in human resource management from Oxford Brookes University, UK. After graduation, he was re-deployed by the UN to Iran where he helped resettle hundreds of Afghan refugees.
In 2011, he was assigned to work in a Tunisian refugee camp under highly unsafe circumstances. To manage his stress, Morad started practicing yoga and meditation. Then he found MUM on the Internet and decided to pursue a PhD in management.
"I have gained a lot more clarity from practicing Transcendental Meditation," said Morad. "Being at MUM allows me to be more appreciative and calmer. My teachers here promote a greater level of cooperation, coherence, and growth. I can feel a great degree of connectedness which brings all of us together as a family."
Morad recently applied for a permit to create a Model United Nations chapter at MUM, the first in Iowa, where students can share their research presentations about various global issues on the UN agenda and then compete with other universities for the prize of representing MUM at the UN headquarters.
"Morad is a kind and generous individual who is committed to doing good for the world and understands the profound power of Maharishi's knowledge to solve social problems and alleviate suffering," said Dennis Heaton, professor of management.
After completing his PhD at MUM, Morad plans to continue working with refugees. "My plans lie in helping people in need: minorities, children, women without male support in insecure places. Maybe I can bring the gift I received here, TM, to my colleagues at the UN."
© Copyright 2013 Maharishi University of Management