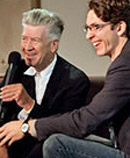 Scott Morris says after his education at Maharishi University of Management, "I feel capable of realizing my self as Self, as well as the more sustainable, socially just, and economically equitable world we know in our hearts to be possible."
Rethinking money, wealth, and community
by Maharishi University of Management, Fairfield, Iowa, USA, Achievements
July 2013
Scott Morris grew up in Huntsville, Alabama, and created his political economics degree while studying in the New College interdisciplinary arts program at the University of Alabama. During his junior year, he studied in Kyoto, Japan, and travelled to Southeast Asia. This experience led him to commit to doing work that would help people lift themselves out of poverty.
While working on his capstone presentation, titled "Paradigm Shift to Peace," Scott discovered a book about Maharishi School of the Age of Enlightenment and the effect of the Transcendental Meditation technique on student performance. After graduation, he attended an Maharishi University of Management (MUM) Visitors Weekend and, two weeks later, moved to Fairfield, Iowa, USA.
During that Visitors Weekend, he became inspired to pursue the MA in Maharishi Vedic Science degree. "Just the way the Maharishi Vedic Science students spoke alone told me they'd found something deeply valuable," said Scott. "I wanted to experience that for myself and apply it to my work. After the year in Maharishi Vedic Science, I feel capable of realizing my self as Self, as well as the more sustainable, socially just, and economically equitable world we know in our hearts to be possible."
Scott has always been interested in local currencies and sustainable community development. In Fairfield, he organized and piloted a program that rewards volunteering for local sustainability causes with "Merits" that can be redeemed with local merchants for special deals. The HERO Rewards program was recently featured in the documentary Money & Life. "I want to help people rethink money and fundamentally redefine wealth, because there are dimensions to both we're currently blind to," Scott said. He has founded myLocal Cooperative as an equitable way to take HERO Rewards to a larger scale.
Scott now lives in Ithaca, New York, and is currently working on a revitalization campaign for the Ithaca HOURS, one of the oldest and most well-known local currency systems in the country. In addition, he serves on the boards of Ithaca's natural foods cooperative and a local not-for-profit sustainable business network. Scott is also an avid photographerspecializing in artistic travel, nature, and landscape imagery.
© Copyright 2013 Maharishi University of Management