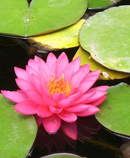 On the Maharishi University of Management campus, a new building for the Institute of Asian and American Studies will be built in the style of a traditional Taoist pavilion of the ancient Tung Dynasty and the style of Maharishi Vedic Architecture.
Institute of Asian and American Studies launched at MUM
by Maharishi University of Management, Fairfield, Iowa, USA, The Review
November 2013
A new Institute of Asian and American Studies has been launched at Maharishi University of Management (MUM) to focus on cross-cultural education and business opportunities, with plans for a new building to be constructed to the west of the Maharishi Peace Palaces on campus.

The mission of the Institute is to bring Asians and Americans together as teachers, learners, and business partners. The inaugural offering of the institute has been a series of workshops held this month featuring Thakur S. Powdyel, a former minister of education in the country of Bhutan.

Inspired in part by the University's ongoing partnerships in Bhutan and China, the Institute will seek to fulfill the shared goals of peace, happiness, progress, and prosperity.

According to its mission statement, activities of the Institute will include conferences, presentations, and seminars on issues related to Asian and American cooperation and that promote sustainable business development in Pacific Rim countries.

The Institute will also offer short- and mid-length courses for professionals from the U.S., China, and other Asian countries who are seeking to gain competence in the U.S.-Pacific Rim business environment.

There will also be programs, workshops, and courses for Americans in Asian languages, arts, healing arts, spiritual traditions, culture, and cross-cultural competency.

The Institute will be housed in a new building designed in both the tradition of a Taoist pavilion of the ancient Tung Dynasty and Maharishi Vedic architecture. It will also incorporate sustainable technologies so that it is a "net zero energy" building.

The new building, which will be approximately the size of a Maharishi Peace Palace, will house classrooms and offices, a museum of sacred oriental art, and a "gross national happiness" center, in partnership with the Gross National Happiness Center of Bhutan. It will include a traditional-style courtyard.

The building will be funded in part by investments, with an individual in China currently interested in contributing the $1 million initial cost to begin construction. Discussions with additional investors are ongoing.

The Institute will also support and publish research on the commonalities and unifying sources of the Asian traditions with the Vedic tradition and will seek research partners and grantors to help fulfill this mission.

At the basis of the educational curriculum will be the unifying principals of Consciousness-Based education.
© Copyright 2013 Maharishi University of Management