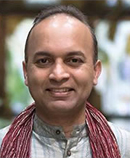 Dr. Appachanda Thimmaiah heads the Regenerative Organic Agriculture Certificate Program.
MUM offers Regenerative Organic Agriculture Program
by Maharishi University of Management, Fairfield, Iowa, USA, Achievements
28 December 2016
Maharishi University of Management is launching a new Regenerative Organic Agriculture Certificate Program in January 2017. The 10-month program is the first of its kind in the U.S. and will give students the knowledge and hands-on experience to master a system of agriculture that embodies the very best and most sustainable aspects of organic and biodynamic agriculture, as well as traditional agricultural knowledge systems from around the world.
The program will combine classroom instruction, fieldwork, and apprenticeship. Courses include planning an organic farm, soil science, biodynamic agriculture, greenhouse management, organic crop nutrient management, organic pest management, and more.
Students will also learn and practice the Transcendental Meditation technique, which is a powerful tool that they can use to get in direct touch with the deep laws of Nature that govern agriculture, thereby improving their effectiveness in farming. The scientifically proven mental, physiological, behavioral, and physical benefits also enable students to learn more efficiently and effectively.
Apprenticeships will be available in the U.S., India, Sri Lanka, Nepal, Italy, Bali, and Costa Rica.
"Organic agriculture is still a substitution farming where chemicals are substituted with biological inputs which are imported, such as seeds, manure, biopesticides, and more," said Dr. Appachanda Thimmaiah, head of the program.
Regenerative organic agriculture, on the other hand, is a self-sufficient, closed-loop system in which all the inputs required for farming are produced by farmers on their farms using only the naturally available resources within their farms. It's a holistic system of food production where a farmer's every action leads to an incremental improvement in the quality of soil, food, and the environment.
"Applied widely, " Dr. Fagan said, "regenerative organic agriculture can address many of the big challenges that humanity faces today—climate change, drought, the energy crisis, social justice, malnutrition and hunger, land degradation, pollution—regenerative organic can be a big contributor to solving all of these."
In addition to local agriculture specialists, the program will offer instruction by international experts such as Jim Fullmer, executive director of the Demeter Biodynamic Association; Tom Newmark, founder of Sacred Seeds, an international conservation project; and Andre Leu, president of the International Federation of Organic Agriculture Movements (IFOAM).
"This course will be of interest to anyone who has a passion to create radical change in the current food and agriculture systems," Dr. Thimmaiah said. "From home gardening, to transforming the urban landscape with neighborhood food forests, to professional organic farming and food entrepreneurship, to food activism and advocacy—this program is a great first step in taking on each of these missions."
Graduates will receive a certificate in regenerative agriculture underwritten by MUM, the Biodynamic Association, and IFOAM. The site of the program is a 26-acre plot of organic land just a quarter mile north of the MUM campus.
This new program, renovations, and new construction have been fully funded through donor support, thanks in very large measure to the great generosity of Alexander Stanley and by our very beloved late Trustee, Petra Stanley.
© Copyright 2016 Maharishi University of Management