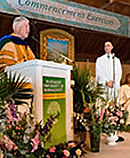 In his commencement address, filmmaker David Lynch said, "We are in the middle of a transition from a dark time to a beautiful, beautiful time—a time of peace and affluence for everyone. I see these very great graduating students playing a big role in hastening this transition to its conclusion—peace on earth."
David Lynch gives commencement address at MUM
by Maharishi University of Management, Fairfield, Iowa, USA, Achievements
3 July 2016
On June 18, 366 students from 53 countries graduated from Maharishi University of Management (MUM). Acclaimed filmmaker David Lynch gave the commencement address and, instead of a traditional speech, he conducted a spontaneous question and answer session with four graduating students.
As part of the ceremony, the University presented Mr. Lynch with a Doctor of World Peace honoris causa degree, "in recognition of the enormous role he has played in promoting Maharishi's knowledge throughout the world, transforming people's lives through the work of the David Lynch Foundation, and laying the foundation for a truly peaceful world," said MUM President Bevan Morris.
As a result of the Foundation's activities, hundreds of thousands of people have learned and benefitted from the Transcendental Meditation technique. Mr. Lynch has been practicing the TM technique since 1973, and has spent time on campus on several occasions. In 2006 he offered the first of three annual "David Lynch Weekends," which brought hundreds of visitors to campus to learn about consciousness, creativity, and the brain. Mr. Lynch has also been an important member of the MUM family, as a member of the Board of Trustees and in lending his name to the David Lynch MFA in film program (DLMFA). During his visit, Mr. Lynch also met with the students of the David Lynch MFA in film program.
"Not only is David transforming lives through his Foundation, he has made countless people aware of the Transcendental Meditation technique throughout the U.S. and around the world," said Craig Pearson, executive vice-president of MUM. "Many well-known thought leaders in the U.S. have adopted the practice and have publicly endorsed it at events sponsored by his Foundation. He presents Maharishi's knowledge in such a clear, compelling, and heartfelt way."
Mr. Lynch is internationally known for his highly original films and Twin Peaks television series. He has been nominated for an Academy Award four times: three times as Best Director and once for Best Screenplay.
During the Q and A session Mr. Lynch encouraged students to pursue a career they enjoy. He also praised the role of the Transcendental Meditation program in education as a means to increase students' potential. He said that the purpose of life is to unfold higher states of consciousness and to inspire others to do the same.
"If you watch CNN, you would think in ten years we're still going to be in a lot of trouble," he said. "But here, in just one day back at Maharishi Vedic City and around this University, I am hearing about so many fantastic things that are going on all around the world. We are in the middle of a transition from a dark time to a beautiful, beautiful time, a time of peace and affluence for everyone. And I see these very great graduating students playing a big role in hastening this transition to its conclusion—peace on earth."
Mr. Lynch expressed his gratitude to Maharishi Mahesh Yogi for bringing out the profound knowledge of enlightenment. He also acknowledged the many people in Fairfield and around the world who have participated in spreading Maharishi's knowledge. He also felt optimistic that the "receptivity to Transcendental Meditation is growing by leaps and bounds."
Following are five quotes from his Q & A session:
On creating leaders:
"I think this is the definition of a great leader: someone who inspires others to learn Transcendental Meditation, to become a light unto themselves and … sending them out there to get [Transcendental Meditation] to other people so that we can have peace on earth."
On understanding intuition:
"[Intuition is] knowing when something isn't quite correct and then knowing a way to make it correct… I always say, intuition is the number one tool for an artist, for people in business, and for human beings. As Maharishi says, 'There are no problems, only solutions.'"
On success:
"[I] meditate regularly. And then the second thing I do is drink coffee."
On catching a great idea:
"I equate ideas to fish; we don't make the fish, we catch the fish… It's very fortunate when one catches a great idea… Once you get one fragment [of an idea], it's like bait… You drop the line into the beautiful ocean of consciousness."
And the number one piece of advice from Lynch's 2016 commencement speech, on life lessons learned from film sets:
"Always have the final cut!"
Maharishi University of Management was honored to have filmmaker extraordinaire David Lynch participate in the 2016 commencement ceremony.
© Copyright 2016 Maharishi University of Management