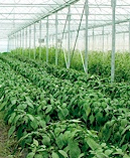 Conference participants appreciated that the MUM speakers talked about the connection between spirituality, food, and agriculture, since the conference participants said they felt were discouraged from doing so at their universities.
MUM faculty present at Harvard on Sustainable Agriculture
by Maharishi University of Management, Fairfield, Iowa, USA, The Review
2 June 2016
Maharishi University of Management (MUM) faculty recently had the opportunity to present a more profound view of agriculture at a conference on "The Spirit of Sustainable Agriculture" hosted by Harvard Divinity School.

A. Thimmaiah, Travis Cox, and John Fagan led a workshop that presented three natural approaches to agriculture.

Dr. Thimmaiah was also invited to be one of five speakers at the plenary session. And he performed an ancient ceremony, called Agnihotra, for healing and agriculture that was attended by approximately 150 of the 200 conference participants.

"They really appreciated how we connect this deep philosophy with modern science, and the way we link spirituality with agriculture," Dr. Thimmaiah said. "Many of the other speakers quoted us when they gave their presentations."

Dr. Thimmaiah was invited to speak after having kept in touch with the organizer, who visited MUM two years ago.

During their workshop, Dr. Cox spoke about integral agriculture, Dr. Fagan about Maharishi Vedic Organic Agriculture, and Dr. Thimmaiah about Biodynamic agriculture.

"Many had not heard about MUM before, and afterward we were mobbed by people eager to talk to us and ask questions," Dr. Thimmaiah said.
Dr. Cox also gave a session on the concepts of the philosopher Alfred North Whitehead as applied to agriculture.

Conference participants said they felt they were discouraged from talking about the connection between spirituality, food, and agriculture at their universities, and they appreciated what MUM is doing. Many expressed an interest in visiting.

In his plenary presentation, Dr. Thimmaiah said that the future is not genetically modified organisms or conventional farming with its toxic chemicals. Instead, it's spirituality in agriculture, clean agriculture. It's agriculture such as Vedic and Biodynamic agriculture that gives deep respect and reverence for—and humility toward—farmers and farming.

He said that while other presenters spoke about agriculture in the context of their faith-based systems, they appreciated the universal laws of nature articulated by the MUM faculty. And they appreciated the language they used.

"They said, 'We like the language your university is using to link spirituality and agriculture, and the ancient knowledge you people are bringing out,'" Dr. Thimmaiah said. "This is the gift we have: we were talking Maharishi's language. "
© Copyright 2016 Maharishi University of Management