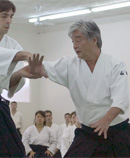 Yamada Shihan, the current president of the USAF, led the seminar attened by students of aikido at MUM.
MUM Aikido Club participates in National Seminar
by Maharishi University of Management, Fairfield, Iowa, USA, The Review
24 June 2017
Three people from the Maharishi University of Management (MUM) community, including two MUM aikido club members, traveled to Chicago in April to participate in a two-day seminar hosted by the United States Aikido Federation (USAF).

Because of the founder's more spiritual nature, Aikido is a "soft" martial art, the goal of which is the immediate de-escalation of any conflict through non-combative defensive techniques to disarm and demobilize a person displaying aggressive behavior.

The ultimate goal of aikido is to turn an opponent into a friend, which has made it a discipline more appealing to members of the MUM community.

This seminar was a rare opportunity because it was led by Yamada Shihan, the current president of the USAF and a senior student of the original founder of aikido, said David Todt, the club's MUM administrator liaison.
The founder of aikido was quoted by Craig Pearson in his book Supreme Awakening, which gives examples of historic figures throughout the ages who had spontaneous glimpses of higher states of consciousness.

"There are few people like Yamada Sensei, who studied in Japan with the founder of aikido, still active in the world today," said Megann Kammerman, president of the MUM aikido club. "And we here in Fairfield are also fortunate to have an instructor who studied for over 20 years directly with Yamada Sensei."

The MUM aikido club has an agreement with the Fairfield School of Aikido to use their practice facilities and take classes from their instructors, all of whom practice the Transcendental Meditation technique. The instructors include Sensei Motier Haskins, fifth-degree black belt, and Sensei John Strouss, a Transcendental Meditation teacher who has a second-degree black belt in aikido.

The club has also been to seminars hosted by the University of Iowa aikido club and other clubs in the Midwest.

Those interested in the aikido club's beginner classes can contact Mr. Todt at dtodt@mum.edu. The club has classes four times a week to choose from.
© Copyright 2017 Maharishi University of Management