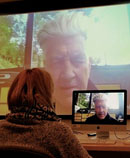 Agnes, who received a full schlarship to the David Lynch MA in Film, talked to David Lynch for inspiration via the internet.
MUM student film wins six top awards
by Maharishi University of Management, Fairfield, Iowa, USA, The Review
31 May 2018
Last Tree Standing, the thesis film by Agnes (Baginska) Peel-McGregor of the Maharishi University of Management, recently won six Awards of Excellence at the Iowa Motion Picture Association's annual awards ceremony—more than any other entry.

The 30-minute film won the top award in the categories of director (short-form), editing (short-form), original score, screenplay, soundtrack audio mix, and visual effects.

The film also received Awards of Achievement, which are given to films nominated for an award, in the categories of best short film, best actor, best actress, cinematography, and voice-over narration.

This awards event was the Iowa premiere of Last Tree Standing, which has also won recognition at international film festivals.

Ms. Peel-McGregor is a 2016 graduate of MUM's David Lynch School of Cinematic Arts.

Her film is the futuristic story of Treeman, a half-tree, half-man character in the year 2071, when all trees are gone in a dystopian world except for the remnants embodied by Treeman.

The Iowa Motion Picture Association recognizes outstanding creative and technical achievement in Iowa's moving image production industry. In each category, entries must meet the rigorous criteria of industry judges to receive the Award of Achievement. If the work is outstanding, it meets the criteria to earn an Award of Excellence.
© Copyright 2018 Maharishi University of Management