Tuvshinbayar Surenkhorloo, and Odontungalag Tserendorj, that were part of the MUM MBA student team that placed in the 98th percentile at the 2019 CAPSIM Capstone business simulation, are from Mongolia.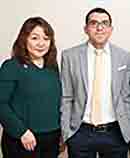 Odonmijid Ganbold (from Mongolia) and Anas Mizyed (from Jordon) were also part of the MUM MBA team that scored in the 98th percentile.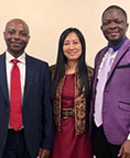 The team that placed in the 94th percentile was (from left to right) Kennedy Kamfwa (from South Africa), Zoey Jiang (from China), and Benedick Mbecha(from Cameroon).
MUM MBA students earn high scores in global simulation
by Maharishi University of Management, Fairfield, Iowa, USA, Achievements
13 April 2019
Two teams of students in the accounting Maharishi University of Management (MUM) MBA program recently continued an extraordinary streak of accomplishments in the CAPSIM Capstone business simulations, earning scores that placed them in the 98th and 94th percentiles, compared to 1,450 participating graduate-level teams from around the world.
Three students from Mongolia were on the team scoring in the 98th percentile: Odonmijid Ganbold, Odontungalag Tserendorj, and Tuvshinbayar Surenkhorloo, as well as Anas Mizyed from Jordan.
The team in the 94th percentile included Zoey Jiang from China; Kennedy Kamfwa, South Africa; and Benedick Etiandem Mbecha, Cameroon.
"The Capstone simulation provides an important third-party assessment of our MBA student development," said Professor Andrew Bargerstock, who teaches the students' Capstone course.
"An MBA education is designed to prepare leaders for the future, leaders who possess good strategic and tactical insights based on data analysis and problem-solving skills. The accomplishments for these two groups demonstrate the high value created by the MBA education at our university."
During the Capstone simulations, students play the role of top management executives who guide the decision-making of their enterprise through eight years of multifaceted decisions, including sales and marketing, product development, manufacturing operations management, finance, human resource management, and total quality improvement.
"Nothing can give the real feeling of being the CEO of a manufacturing organization but the CAPSIM business simulation game," said Tuvshinbayar Surenkhorloo.
"My executive mind grew through the Capstone simulation. The simulation has built-in capabilities that enabled me to exercise key attributes of consciousness—comprehension, creativity, initiative, vigilance, and foresight," said Benedick Etiandem Mbecha.
Among the competing universities in the top ten percent were University of California—Berkeley, University of Massachusetts Amherst, University of North Carolina, University of Northern Iowa, University of Utah, Seton Hall University, Kansas State University, Royal Melbourne Institute of Technology, and Hong Kong University of Science & Technology.
© Copyright 2019 Maharishi University of Management