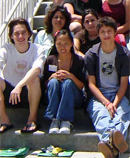 Transcendental Meditation is a useful tool for students who want to have a positve, successful experience at school.
The TM program for students
by Transcendental Meditation for Women website
16 September 2019
In hundreds of public and private schools throughout the U.S. and around the world, students have the option to practice the Transcendental Meditation technique.
A recent study conducted by the University of Connecticut found students in three high schools had reduced levels of stress, anxiety, hyperactivity, and emotional problems when practicing the TM technique over a period of four months at school, as compared with non-meditating controls.
School bullying
The Transcendental Meditation technique offers promising, measurable results for increasing empathy, compassion and tackling the stressors that give rise to bullying. The (US) National Center for Educational Statistics estimates that one third of students ages 12-18 are bullied at school and online. Bullying behavior is a symptom of an underlying cause: an epidemic of stress in our homes, schools and society. TM reduces s-t-r-e-s-s.
Helping victims of bullying
TM practice can also help strengthen children that are potential victims of bullying by building self-esteem and resilience to stress. And it increases mind-body coordination and gives you faster reaction time, so you can 'think on your feet' and deal.
Published research has shown that after learning the TM technique, students around the world had better grades, better attendance, better sleep and overall improvement in academic achievement.

A study published in the June 2013 issue of the journal Education showed that students practicing the TM technique had a 25% higher graduation rate than non-meditating students.
Samples of research on TM and teens
At-risk adolescents reduce stress, anxiety, and hyperactivity through Transcendental Meditation.' Robert Colbert, PhD, Assistant Professor of Educational Psychology, University of Connecticut (US). Presented at the Annual Meeting of the Society for Behavioral Medicine, March 2008
Transcendental Meditation reduces stress and increases happiness among middle school students.' Rita Benn, PhD, Director of Education, Complementary and Alternative Medicine Research Center, University of Michigan. National Institutes of Health in Bethesda, Maryland, April 2003.
Those practicing the TM technique developed a more strongly defined sense of self-concept, in comparison to controls. British Journal of Psychology 73: 57-68, 1982.
University students who learned the TM technique showed significant improvement on a Brain Integration Scale, decreased sleepiness and faster habituation to stressful stimuli in comparison to controls. International Journal of Psychophysiology 71: 170-176, 2009.
University students who learned TM displayed decreased stress response, increased integration of brain functioning and decreased sleepiness in comparison to controls. International Journal of Psychophysiology 71: 170-176, 2009.
Adolescent who learned TM, compared to control, showed decreased absenteeism, school rule infractions, and suspension days. Health and Quality of Life Outcomes 1: 10, 2003.
Students who learned the TM technique were found to increase significantly after three months in scores on mathematics and language (English) in comparison to controls. Education 131: 556-564, 2011.
Students who learned the TM technique showed increased self-esteem after 14 weeks, in contrast to control students. Dissertation Abstracts International 38(7): 3372B-3373B, 1978
© Copyright 2019 Global Mother Divine Organization