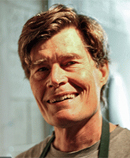 James Shrosbree has received many prestigious awards that provided support to allow him to focus on his research and creative practice.
Being more awake to kindle the imagination
by Matthew Beaufort at Enjoy TM News, The Transcendental Meditation Magazine
4 February 2021
James Shrosbree, Professor of Art at Maharishi International University (MIU), is the recipient of numerous accolades in his field. The Guggenheim Foundation honored him with a highly competitive 2019 Guggenheim Fellowship. Of the 3,000 applicants across all disciplines, 25 artists were selected. In 2017 he received a grant from the Pollock-Krasner Foundation, which continues the legacy of painters Jackson Pollock and Lee Krasner. These prestigious awards provide support that allows recipients to focus on their research or creative practice.
Such awards also benefit the MIU Art Department and the University as a whole, notes Shrosbree: "Each achievement opens the door for more and greater things to happen, both personally and for our community of scholars and artists."
Shrosbree teaches in MIU's M.A. in Studio Art and the B.F.A. program, in which students have also enjoyed remarkable success. They have been accepted into prestigious M.F.A. programs in art, including those at Yale, Rutgers, Cranbrook Academy of Art, the University of Iowa, and the University of California at Davis, among others, and have received highly competitive scholarships and teaching assistantships.
Waking Up to Interpret the Nature of Reality
Shrosbree says that his regular practice of the Transcendental Meditation technique has supported his creative success. "It's a simple thing of being more awake. When I am more awake, I see the world differently—in new ways that can kindle the imagination. Starting the TM technique woke me up," he says.
To support his creative practice, Shrosbree follows a regular routine of going to bed early, getting up early, practicing the TM technique twice a day, exercising, and working in the studio every day.
TM practice also benefits his students. "Practicing the TM technique and having it as a daily routine helps students forge a sustainable and healthy studio practice. This, along with focusing intently on art, and guidance from experienced teachers and visiting artists, creates the ground for a robust learning environment," he explains.
"There is a lot to be said for paying attention to what is happening in life on a day-to-day basis," Shrosbee said in a 2020 interview with Maake Magazine. "Taking the world in—absorbing and being wakeful to the flow of the day—that comes out in the work… At bottom, I am looking into the nature of reality—what is there and not there, what is inside and outside, material and non-material/ethereal, growing and fading, being and becoming? I wrestle with the delivery and interpretation of that."
"Bringing That Life Spark"
Shrosbree has worked in a variety of media but has focused on sculptures formed out of simple yet idiosyncratic materials. Many of his pieces are meant to be mounted on a wall and often have drawn lines or shapes placed behind and around them. For example, see the wall-mounted works pictured at the top of this page. In addition, many have physical connections, like wire, uniting the form and the wall through suspension, tension, and balance.
"Maharishi Mahesh Yogi, the Founder of the TM technique and MIU, emphasized that the role of an artist is to 'breathe life into the lifeless,'" comments Shrosbree.
"My fascination is in bringing that life spark. It happens when relationships come together in a certain way. I have to push beyond the materiality and the form to make something new in my own process of discovery. The structure for the process becomes a good start, but it is only used to provide some parameters for an unknown to emerge," he explains.
In 1997 the Cedar Rapids Museum of Art held a show called Meditations, featuring four artists who practice the TM technique and lived and worked in Fairfield, Iowa, the home of MIU. The exhibit included Shrosbree, Will Mentor (then living in Fairfield, now teaching at St. Michael's College), Mark Petrick (then Assistant Professor of Art at MIU), and Gillian Brown (Adjunct Assistant Professor of Art at MIU, then and now).
In the exhibit catalogue, Shrosbree articulated the aims of his art: "My work is a means to realize in matter the feelings and experiences that are alive in my own inner awareness… I hope that references and associations which may be found in my work will not hold the mind in a particular emotion or thought, but rather allow the memory to resonate with and enliven a familiar silent place of discovery deep inside the mind" (Meditations: Four Artists from Fairfield, Iowa, Cedar Rapids Museum of Art, 1997).
Inviting Us to See the Unseen
Shrosbree's sculptures, paintings, and works on paper have been exhibited nationally and internationally, and are included in such collections as the Los Angeles County Museum of Art, the Detroit Institute of Art, the Daum Museum of Contemporary Art, the Eli and Edythe Broad Art Museum at Michigan State University in East Lansing, the Des Moines Art Center, the Mint Museum in Charlotte, North Carolina, and the University of Iowa Museum of Art.
Lenore Metrick-Chen, Ph.D., Associate Professor of Art History at Drake University, comments on how Shrosbree's work impacts the viewer in the exhibit catalogue for Jim Shrosbree: Zero/Distance (2005) at the Daum Museum of Contemporary Art in Sedalia, Missouri:
"We usually, and quite reasonably, expect visual art to involve us in an encounter with something that is seen. But James Shrosbree's art initiates an unexpected visual experience: We become aware of what we cannot see. His small, at times winsome, but always intensely focused artworks are an invitation for the viewer to enter the play between the seen and the unseen. The timelessness of the self-contained object and our transitory temporality intersect in this encounter," writes Dr. Metrick-Chen.
Shrosbree has been a visiting artist at numerous universities and art institutions, including Cranbrook Academy of Art, U.C. Davis, Bard College, and Alberta College of Art. In addition to the Guggenheim Fellowship and Pollock–Krasner Grant, his awards include, a National Endowment for the Arts Artist's Fellowship (Midwest), a Wege Foundation Grant, and fellowship residencies at Yaddo and MacDowell.
© Copyright 2021 Maharishi International University