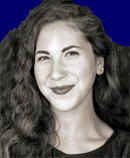 "I meditate every day and it helps me tremendously," Jennifer Kachler said. "I can't imagine what life would be like without it."
MIU alumna is a writer, producer, director
by Maharishi International University, Fairfield, Iowa, USA, Achievements
1 October 2021
Maharishi International University (MIU) alumna Jennifer Kachler earned her BFA in film from the School of Visual Arts New York City in 2009 and began working in various media roles, including producer and director.
In 2011 she read Catching the Big Fish by David Lynch and immediately learned the Transcendental Meditation technique. Jennifer is a big fan of David Lynch, so when she heard about the David Lynch MFA in Film Program starting in 2014, she was thrilled to apply.
Jennifer enjoyed practicing the TM technique in a group, making friends, and expanding her network. Meeting David Lynch and receiving his advice on her work were the highlights of her year. "It was such an unreal experience, one that I will never forget," she said. "I am so grateful I had that experience."
After graduating, Jennifer returned to New York City and continued to work in commercial film, working her way up to executive producer. She has directed and produced an impressive list of commercials, short films, and documentaries.
Creating content for big name brands in a fast-paced, demanding environment can be stressful, but Jennifer's TM practice helps her stay calm. "I meditate every day and it helps me tremendously," she said. "I can't imagine what life would be like without it."
Jennifer has also been completing the postproduction of her MIU thesis film, Kennedy Hill, a short movie set in the late 1930s about a 17-year-old girl who finds out she is adopted. The film was inspired by the adoption story of Jennifer's grandmother.
Jennifer appreciated MIU's approach of incorporating the Transcendental Meditation program and other self-care practices in the creative process, and she would like to see that happen in the film industry worldwide. "My goal is to direct film and work in an environment that promotes positivity, empowerment, and inspiration," said Jennifer.
© Copyright 2021 Maharishi International University