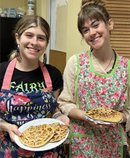 The course provides knowledge of the basics of Ayurveda and helps students select their own specific diet based on their body type.
Feeling nurtured with Ayurvedic cooking
by Maharishi International University, Fairfield, Iowa, USA, Achievements
27 August 2022
During the first two weeks of each academic year,
Maharishi International University (MIU)
management professor Sabita Sawhney has taught an Ayurvedic cooking course for the past twelve years. This for-credit course is one of MIU's Forest Academy class series, which aims to provide students with the opportunity to explore more deeply the principles associated with the development of their own inner intelligence.
Dr. Sawhney says she began teaching the class in order to give students life skills. "My first love is teaching, and this just came out of it," she said. "It's very fulfilling for me.
Professor Sawhney taught the first cooking course in a campus apartment. Eventually, the course outgrew the space and, inspired by her students, she opened Sabi's Cafe, where she serves Indian vegetarian lunches and hosts her annual Ayurvedic cooking class.
"There is a lot of practical knowledge here," said student Christian Parker. "We are learning how to make dishes that are easy and balancing, and there are a lot of modifications as well."
The course provides knowledge on the basics of Ayurveda and helps students select their own specific diet based on their body type. The course also addresses proper digestion, the role of spices in supporting digestion, and the effects of food on the development of higher states of consciousness.
"What I like most about this class is the emphasis that the professor puts on conscious cooking and the understanding that the consciousness of the cook will be infused into the food," said Zan Muller.
Professor Sawhney likes to take input from the class and provide students with menu options. In addition to learning how to make Ayurvedic staples like ghee, panir, rice, and dal, students also make full meals and help Professor Sawhney prepare meals for the restaurant.
"I like the opportunity to nurture myself," said Jacqueline Slater. "It is really empowering to form a relationship with food, and feel nurtured, and feel good about all the ingredients as well."
© Copyright 2022 Maharishi International University