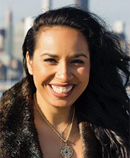 Ymane Lakhlif says the practice of the Transcendental Meditation technique helps her stay calm and focused with her busy schedule as a student and a manager.
Maharishi Ayurveda student is clinic manager
by Maharishi International University (MIU), Fairfield, Iowa, USA, Achievements
30 July 2022
Maharishi International University (MIU)
student Ymane Lakhlif grew up in New York City and competed in swimming throughout high school and college. She also earned a black belt in Tae Kwon Do at the age of nine.
Coming from a Moroccan heritage, she has always had an interest in natural health. In college she majored in biology and, after graduating, she combined her interests in sports and health to train as a fitness instructor. She began her career in a fitness club on Wall Street, where she quickly became one of the top trainers and the first woman to rise to a management position there.
Four years ago Ymane moved to Los Angeles and continued managing fitness studios. In 2020, when the COVID pandemic hit, all the studios shut down and she was without work. At the same time she developed a digestive health issue, which she was able to resolve with the help of traditional Chinese medicine. This spurred her to research Eastern medicine and eventually pursue a master's degree in
Maharishi AyurVeda and Integrative Medicine
at MIU.
"I wanted to continue my education with something substantial, not just a certificate," said Ymane. "I appreciate the in-depth knowledge we are learning in class and I see myself doing this for a long time."
When she heard about the opening of MIU's Navin and Pratima Doshi Center for Integrative Medicine in Los Angeles, she was eager to help. For the past year she has worked as operations manager of the clinic, as well as host of a weekly webinar featuring MIU's faculty and guest experts. In addition, she oversees the renovations of the building along with her husband, who is the building's manager.
The practice of the
Transcendental Meditation
technique helps Ymane stay calm and focused with her busy schedule as a student and a manager. "Life can be very hectic and TM keeps me grounded," she said.
In her free time, Ymane enjoys working out every day and maintaining a routine that centers on self-care.
© Copyright 2022 Maharishi International University