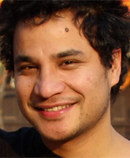 "TM added a lot of value to my quality of life," MIU student Bijay Shrestha said.
Aspiring to unseen heights
by Maharishi International University, Fairfield, Iowa, USA, Achievements
7 November 2022
Maharishi International University
(MIU) student Bijay Shrestha grew up in Nepal and became interested in computers as a child. He earned a bachelor's degree in computer networking and IT security from London Metropolitan University in Nepal and decided he wanted to become a software developer.
He got a job with F1Soft International, where he worked for over seven years, creating applications for the financial sector and working his way up to assistant engineering manager.
Bijay wanted to gain international experience and was looking for scholarships abroad when he heard about MIU from a colleague. He liked the practical approach of MIU's ComPro Program and the low upfront cost and applied.


"MIU was the best thing that happened for my career," said Bijay. He found his coursework challenging and realized early on that he needed to utilize MIU's daily routine and the Transcendental Meditation technique in order to manage his heavy academic load.
"TM added a lot of value to my quality of life," he said. "It helped me manage my stress and process all the new information I was learning." Bijay strived to perform well in his classes and even acted as a graduate student assistant for a couple of his MIU classes.
Bijay began receiving interview requests from companies on LinkedIn even before he finished his last course—career development strategies. After a series of interviews with several companies, he accepted an offer from Bank of America, where he is completing his full-time paid practicum. He wanted to experience the American work culture in an industry he is familiar with and work toward his goal of developing scalable and efficient applications.
Bijay is now completing the rest of his classes via distance education and wants to become a chief solutions architect.
© Copyright 2022 Maharishi International University