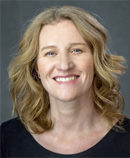 Candace Miller appreciates the TM technique and says, "It was transformative for my health and helps me juggle all the different things I do. I have more patience with other people, myself, and my process."
Artist and integrative medicine practitioner
by Maharishi International University, Fairfield, Iowa, USA, Achievements
25 September 2022
As a child, Candace Miller was fascinated with human anatomy and the natural world and aspired to be a doctor. But in high school she pivoted to the arts and earned a BA in humanities with a focus in medical anthropology from New College of California in 2001.
Her calling to be a healer reemerged in 2009 when she moved to New Mexico. She enrolled at the University of New Mexico School of Medicine PA program and graduated with a Master of Science in 2015, launching her career as a physician associate.
She spent the following six years working as a clinician in retail health/urgent care with CVS MinuteClinic, occupying various leadership roles, including senior clinician in New Mexico and regional quality lead during clinic expansions in Utah and Washington. She currently focuses on training and mentoring.
Candace wanted to do more for her patients and dreamed of establishing an integrative primary care practice where she could spend more time with patients and offer a holistic approach that addresses the root cause of disease.
She had long been drawn to Ayurveda and she chose MIU's online
MS in Maharishi AyurVeda and Integrative Medicine
program because it was the only program in the US offering a part-time master's degree, allowing her to continue working in patient care.
"I am glad I chose this program, and I think the TM technique is a really significant piece," said Candace. "It was transformative for my health and helps me juggle all the different things I do. I have more patience with other people, myself, and my process."
In 2021 Candace opened her own integrative primary practice, incorporating the Ayurvedic knowledge she has gained at Maharishi International University. "Thanks to this MSMAVIM program, I am doing my true life's work," she said.
In her free time, Candace enjoys making pottery, painting, and hiking in the mountains around her Santa Fe home with her partner and two dogs.
© Copyright 2022 Maharishi International University